---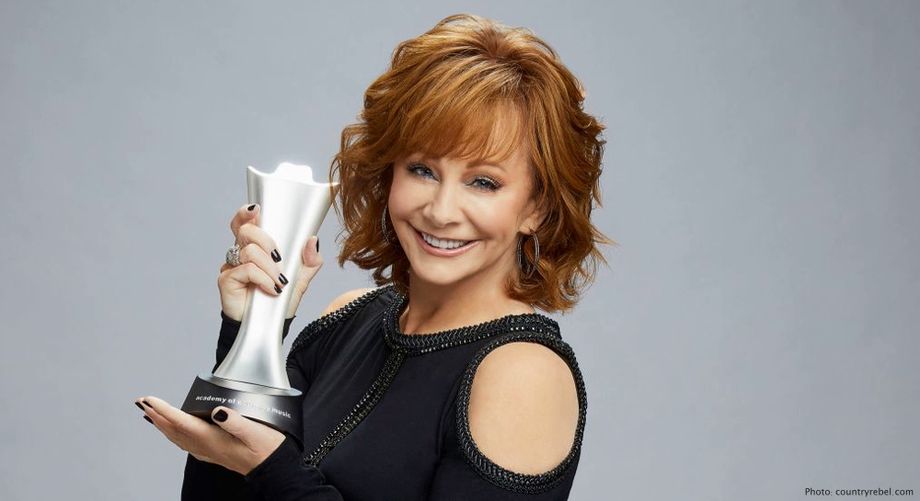 Reba Nell McEntire (born March 28, 1955), also known simply as Reba, is an American country music singer, songwriter, record producer, actress, and television producer. She began her career in the music industry as a high school student singing in the Kiowa High School band, on local radio shows with her siblings, and at rodeos. While a sophomore in college, she performed the National Anthem at the National Rodeo in Oklahoma City and caught the attention of country artist Red Steagall who brought her to Nashville, Tennessee. She signed a contract with Mercury Records a year later in 1975. She released her first solo album in 1977 and released five additional studio albums under the label until 1983.
Signing with MCA Nashville Records, McEntire took creative control over her second MCA album, My Kind of Country (1984), which had a more traditional country sound and produced two number one singles: "How Blue" and "Somebody Should Leave". The album brought her breakthrough success, bringing her a series of successful albums and number one singles in the 1980s and 1990s. McEntire has since released 26 studio albums, acquired 40 number one singles, 14 number one albums, and 28 albums have been certified gold, platinum or multiplatinum in sales by the Recording Industry Association of America. She has sometimes been referred to as "The Queen of Country". and she is one of the best-selling artists of all time, having sold more than 95 million records worldwide.
In the early 1990s, McEntire branched into film starting with 1990's Tremors. She has since starred in the Broadway revival of Annie Get Your Gun in 2001 and in her television sitcom, Reba (2001–07) for which she was nominated for the Golden Globe Award for Best Performance by an Actress in a Television Series–Musical or Comedy. As of February 2020, Reba has returned to Universal Music Group.
---

The Country Daily | by jwills  |  February 10, 2021
Reba McEntire Celebrates 35 years of Wondering Who's In New England
Reba McEntire is marking the 35th anniversary of her very first number-one album, Whoever's In New England.
Reba says of the title track, "Not only was it my first #1 album, it was my very first music video!"
There have been many albums, many videos and of course a ton of number-ones since…but the first is always the sweetest…
---
Nash Country Daily | by Jim Casey | @TheJimCasey  |  July 25, 2018
Reba McEntire Named 2018 Kennedy Center Honoree for Lifetime Artistic Achievement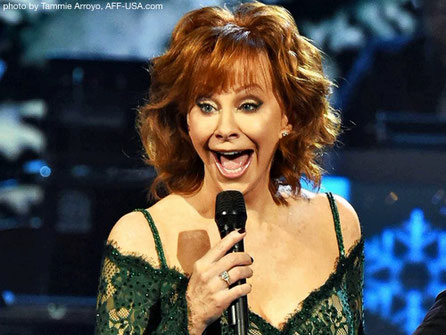 The John F. Kennedy Center for the Performing Arts announced that Reba McEntire will be one of the four honorees at the 2018 Kennedy Center Honors.
Reba will follow in the hallowed footsteps of past Kennedy honorees Merle Haggard, Dolly Parton, Willie Nelson, Loretta Lynn and more.
"The Kennedy Center Honors recognizes exceptional artists who have made enduring and indelible marks on our culture," said Kennedy Center chairman David M. Rubenstein. "Country songstress Reba McEntire has inspired us over four decades with her powerhouse voice and music that conveys heartfelt, heart-warming honesty."
In addition to Reba, the 2018 class includes Cher, Philip Glass and Wayne Shorter.
The 41st Kennedy Center Honors ceremony takes place on Dec. 2 in Washington, D.C. The show will be broadcast on CBS on Dec. 26 at 9 p.m. ET.
Multi-media entertainment mogul Reba McEntire has become a household name through a flourishing career that spans music, television, film, theater, and retail. She marked her 13th summit as "Sing It Now: Songs of Faith & Hope" topped both the Billboard Country and Christian/Gospel charts, bolstering McEntire's successful record of 35 No. 1 singles and over 56 million albums sold worldwide across four decades. The double-disc collection earned McEntire her third Grammy Award® and first GMA Dove Award. The Country Music Hall of Fame, Grand Ole Opry, and Hollywood Bowl member has also won 16 ACM Awards, 15 American Music Awards, 9 People's Choice Awards, and 6 CMA Awards. Her leadership and philanthropic endeavors have been recognized with the Andrea Bocelli Foundation Humanitarian Award, Leadership Music Dale Franklin Award, the Music Biz Chairman's Award, the National Artistic Achievement Award from the U.S. Congress, and with joining the Horatio Alger Association.
McEntire returned for the 15th time to host the ACM Awards in April and led the 2017 ratings-high CMA Country Christmas television special. In 2005, she partnered with Dillard's to launch her own lifestyle brand, and launched the REBA by Justin™ collection at select retailers nationwide for holiday 2017. The Oklahoma native is an acclaimed actress with 11 movie credits to her name, a lead on Broadway in "Annie Get Your Gun", and starred in the six-season television sitcom, Reba. As part of the longest-running Country act in "The Colosseum's history", she will join with superstar pals for another round of Reba, Brooks & Dunn: Together in Vegas at Caesars.
---
Nash Country Daily | by Jim Casey | @TheJimCasey  |  July 13, 2017
Reba McEntire Sells Nashville-Area Estate for $5 Million
Reba McEntire sold her lakefront estate in Lebanon, Tenn. (175 Cherokee Dock Rd Lebanon TN 37087, 30 miles east of Nashville) for $5 million, according to bizjournals.com.
The 83-acre property, known as Starstruck Farm, features a 12,816-squarefoot home with seven bedrooms, five full bathrooms, chef's kitchen, home theater, wine room, eight-car garage, tennis court, pool, guest house, barn, equestrian center with indoor and outdoor riding areas and more. The estate includes frontage on Old Hickory Lake.
Reba listed the house in August 2016 for $7.9 million, before settling for $5 million.
---
Nash Country Daily | by Lisa Konicki | @LisaKon127  |  March 16, 2017
Reba Remembers Band Members Who Died in Plane Crash 26 Years Ago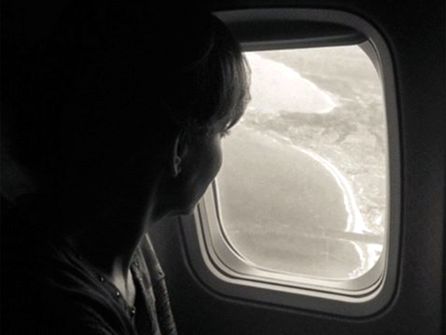 It was 26 years ago today (March 16) that Reba suffered a deep loss when eight members of her band lost their lives in a fatal plane crash.
The accident occurred shortly after the plane carrying the band had taken off from Brown Field, a private airport outside San Diego. Reba recalled the incident in her 1994 memoir, Reba; My Story.
In an interview with Country Weekly, Reba revealed, "I found solace in the Lord and in my music. Even after I finished writing about it and rereading it hundreds of ties, it never got easier."
Remembering her band today, Reba posted a message about the crash on her social media accounts.
"How time flies," she wrote in the post. "26 years ago our friends went to sit on the right hand side of God. I love and miss them. 
Can you imagine the wonderful music they're playing up there? And Jim making sure everything is set up just right?:))) God takes the best. He has great taste. #loveandmissthem". - Our thoughts are with Reba on this sad day.
---
Nash Country Daily | by Lisa Konicki | @LisaKon127  |  February 3, 2017
Reba McEntire Leaves New Gospel Album, "Sing It Now: Songs of Faith & Hope," in the Hands of God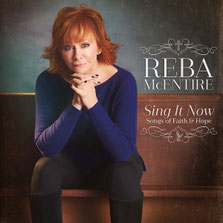 It has finally arrived. Today (Feb. 3) is the day that Reba McEntire's highly anticipated gospel album, Sing It Now, Songs of Faith & Hope, is available to the public via iTunes, but the Oklahoma native says she can't take credit for the idea of the record.
"Well, it wasn't my idea," Reba tells Nash Country Daily. 
"I can't take the credit for that at all but I do believe that timing is everything and everything happens for a reason. Bill Carter, who was my manager in the mid '80s, he talked to me and said, 'Reba, you really need to do an inspirational album. Now's the time.' Then Tony Brown, who produced lots of my albums, starting in the '90s, came up and said, 'I agree with Bill. You need to do a gospel album.' I said, 'Well. I guess I better.' Everybody was for it so I started looking for songs and there you have it.
The two-disc set - which contains 10 gospel classics on disc 1 and 10 new original tunes on disc 2 - features Reba's latest single, "Back to God." Written by Dallas Davidson and Randy Houser, Reba created an ethereal video to go along with the song.
Picking a favorite song from the album is difficult for Reba. The tracks are made up of a combination of her favorite gospel songs that she's been collecting over the years and those that elicit sweet memories for the spiritual redhead.
"They are all my favorites," says Reba of the albums tracks. "I mean, when you go to look for songs, they've got to really touch your heart. I learned a long time ago, don't ever record a song that you don't like because it'll become a single, hopefully, and then if you don't like it, you got to keep singing it for the rest of your life. I always try to pick songs that I really do like."I had been hoarding songs for a long time. 'God and My Girlfriends' I'd had for years. 'I Need to Talk to You,' for years. Then of course, the old songs," adds Reba of the selection process. "I went back to the hymnal that I had from Chockie, Oklahoma, and started going through that and picking out all the songs that I was familiar with. Ones that brought memories back to where Gramma Smith and Grandpa Smith would be singing at the little Chockie church in Chockie, Oklahoma. It was just memories. Great memories and then putting those songs together."
---
Nash Country Daily | by Lisa Konicki | @LisaKon127  |  January 9, 2017
Reba McEntire Says Singing With Mom and Sisters on New Gospel Album Was
"Too Much Fun"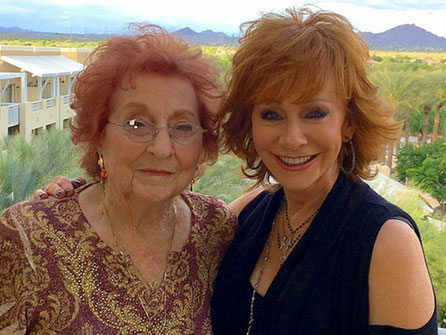 There's a new gospel singer in town and her name is Reba McEntire. Everyone's favorite redhead is putting her vocal talents toward a new gospel album, Sing It Now: Songs of Faith & Hope, set to be released on Feb. 3. The album will be a two-disc offering containing 20 songs, both classic and original. Disc 1 will feature classic gospel songs like "Amazing Grace," "How Great Thou Art, and "I'll Fly Away," while Disc 2 will be filled with original cuts such as "God and My Girlfriends," "Sing It Now," and "I Got The Lord On My Side."
One of the standout tracks on Disc 1 is the classic tune "I'll Fly Away" -  a song Reba grew up singing. For the version on the album, Reba waited to record the song until her mother, Jackie, and sisters, Susie and Alice, were in Nashville and could lend their harmonies.
"[It was] too much fun," Reba tells Nash Country Daily about the recording session. "We were just silly as we could be. We all got around the microphone and Susie and I - we were up there just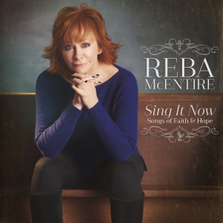 singing our little hearts out and Mama and Alice just kept backing up," she laughs. "They're not used to it, saying, 'Oh, we don't want to be on tape, we can't sing.' I'd say, 'Oh, get up here.' It was so fun."
But that's not the extent of Mama McEntire's talent in the studio. While recording the song "I Got the Lord on My 
Side" - the only song on the album written by Reba—the McEntire matriarch made a suggestion to her daughter that would, as Reba puts it, "enhance" the song.
"She enhanced the song tremendously," said Reba. "[The song] was 'I Got the Lord on My Side' because I had written it. We got in to record it and Mama said, 'Could I make a suggestion?' I said, 'Sure, what is it?' She said, 'Instead of saying I got the Lord on my side or I'm so happy, why don't you say you got the Lord on your side and you're so happy. And I said, 'Well, that's a great idea,' so we went back in and recorded it again like she wanted us to do and I gave her a writer's credit. So now I can say, Mama and I wrote this song!"
If you're happy / You got the Lord on your side / If you're happy / You got the Lord on your side / If I see that big ol' happy printed smile on your face / I know you're happy / You got the Lord on your side.
Listen to Reba singing "Oh, How I Love Jesus," from her upcoming album, Sing It Now: Songs of Faith & Hope.
---
Nash Country Daily | by Lisa Konicki | @LisaKon127  |  December 22, 2016
Listen To Reba, Kelly Clarkson and Trisha Yearwood Sing "Softly and Tenderly" From Reba's Upcoming Gospel Album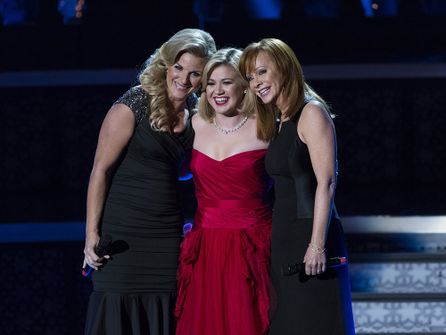 Another of the classic hymns found on the album is "Softly and Tenderly," which Reba recorded with her daughter-in-law Kelly Clarkson and good friend Trisha Yearwood.
"Sing It Now was the perfect title for this album because the message and melody throughout the song connects the dots between the traditional hymns I grew up on and new music that has been uplifting for me in challenging times," said Reba.
"Softly and Tenderly" can be found on iTunes, available for download now. Listen to Reba, Kelly and Trisha's heavenly version of "Softly and Tenderly."
With the announcement of her new gospel album, Sing It Now: Songs of Faith & Hope, being released on Feb. 3, Reba McEntire is offering up the song, "Softly and Tenderly," to her fans.
The album, co-produced by Rascal Flatts' Jay DeMarcus and band leader/musical director Doug Sisemore, is a two-disc offering that will contain classic hymns and original songs.
"It's a double album," said Reba. "One album has 10 hymns on it, songs that I grew up singing all my life. And the other one are 10 brand-new songs. Music conjures up great memories and goes hand and hand with us McEntires. Mama, Susie and Alice even came into the studio with me to record 'I'll Fly Away,' all of us gathered around an old hymnal straight from the Chockie church."
---
---
---
*Immanuel Kant
Created: 20160803
Updated: 20190125 | 20200421 | 20200504
Wikipedia: This page was last edited on 17 April 2020, at 18:52 (UTC)