---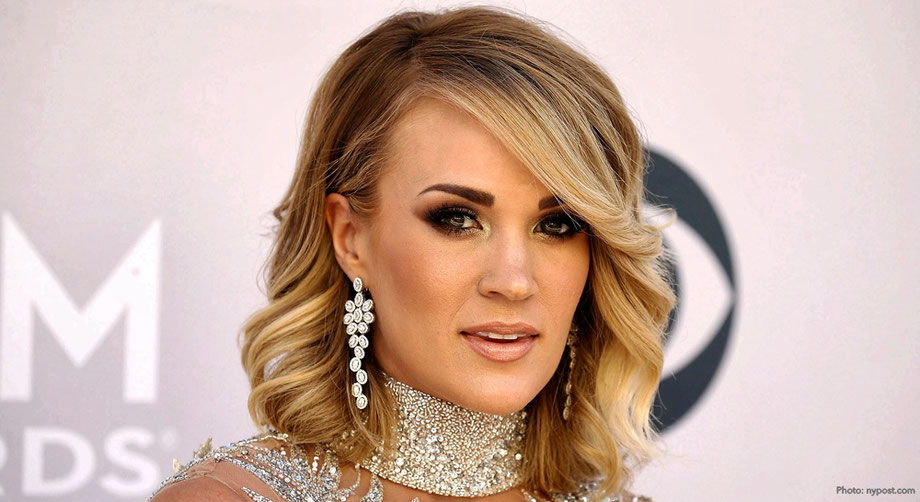 Carrie Marie Underwood (born March 10, 1983) is an American singer, songwriter, fashion designer and actress. She rose to fame as the winner of the fourth season of American Idol in 2005. Her debut single, "Inside Your Heaven", made her the only country artist to debut at number one on the Billboard Hot 100 chart and the only solo country artist in the 2000s to have a number-one song on the Hot 100. Her debut album, Some Hearts, was released in 2005. Bolstered by the huge crossover success of the singles "Jesus, Take the Wheel" and "Before He Cheats", it became the best-selling solo female debut album in country music history, the fastest-selling debut country album in Nielsen SoundScan history and the bestselling country album of the last 16 years. Underwood won three Grammy Awards for the album, including Best New Artist.
---

Nash Country Daily | by Jim Casey | @TheJimCasey  |  September 11, 2018
Carrie Underwood to Receive Star on the Hollywood Walk of Fame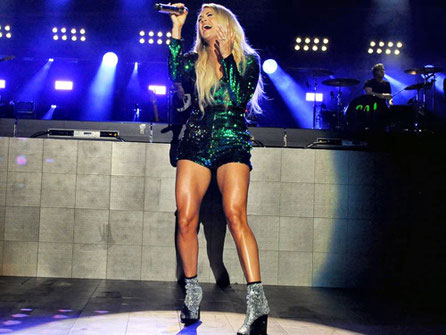 Following in the footsteps of past country luminaries like Reba McEntire, Dolly Parton and Loretta Lynn, Carrie Underwood will receive a star on the Hollywood Walk of Fame on Sept. 20.
Carrie will receive the 2,646th star on the Hollywood Walk of Fame, located at 1750 North Vine Street in front of Capitol Records.
Guest speakers at Carrie's induction will include two men - Simon Cowell and Brad Paisley - who have shared the television screen with Carrie numerous times. Simon was a judge on American Idol when Carrie was named the Season 4 winner in 2005. Brad and Carrie will co-host the CMA Awards for the 11th time on Nov. 14.
"Fans of Carrie Underwood will be thrilled when they see their favorite performer accept her star on the Hollywood Walk of Fame," Ana Martinez, producer of the Walk of Fame ceremonies, said in a statement. 
"People from all over the world have been asking when she will be honored, and we are proud to say, the time is now. We welcome everyone to Hollywood to cheer her on."
---
Nash Country Daily | By Stephanie Downs Apr 19 2018
Carrie Underwood Explained Her Accident & The Way Her Injuries Happened Was Terrifyingly Simple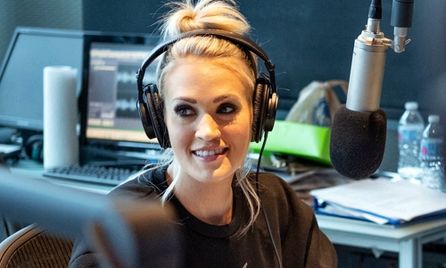 Jason Kempin/Getty Images Entertainment/Getty Images
Carrie Underwood is opening up even more about the terrifying injury that caused her to take a step back from the spotlight. As Hollywood Life noted, Carrie Underwood discussed more details about her injuries during her time on The Bobby Bones podcast. The singer was not afraid to explain exactly what happened with the stressful ordeal she went through.
In November 2017, Underwood fell, which caused her injouries. But, on the podcast, she shared more details about how the unfortunate moment went down. While on the podcast, she explained, "I fell down … I was taking the dogs out ... And I just, I tripped." The singer continued, "There was one step and I didn't let go of the leashes. Priorities! So, that's why my left hand is fine. But, I went to catch myself and I just missed a step. If I had fallen anywhere else I would've been perfectly fine.
But, there was one step that messed everything up."
She went on to say that she thought that the accident only left her with a busted lip, but that was obviously not the case.
As she previously mentioned to her fans in January, her fall left her with over 40 stitches on her face and a broken right wrist, per E! News.
Underwood said that it wasn't easy to have an injured right hand saying that it "can throw off your world, having an appendage that is there, but that you can't use." She did say that she was "fortunate" that she was able to take some time for the injuries to heal properly. 
"I was lucky that when it happened, everything was kind of shutting down in the music world and we had the holidays and stuff like that." But, she also said that she's been ready to resume her normal life again after the accident.
---
Nash Country Daily | by Jim Casey | @TheJimCasey  |  August 3, 2017
Mike Fisher Retires From the NHL After 17 Seasons . . .
Carrie Underwood Is Excited to Have Him "Home a Lot More"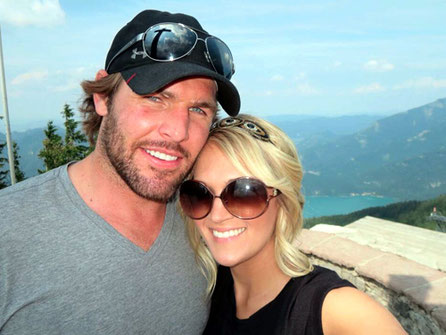 Mike Fisher, who married Carrie Underwood in 2010, has retired from the NHL after 17 season, according to The Tennessean.
Mike, 37, was the team captain for the Nashville Predators in 2017, leading them to the Stanley Cup Final. Mike played the last seven seasons in Nashville after being traded by the Ottawa Senators in 2010.
"I approached this season with the mindset that it could be my last, and now that it's past, I'm looking forward to a future that includes a lot more time with my family," Mike said to The Tennessean. "Things change when you have kids and you have a family. They've supported me without question, and now it's my turn to return the favor."
Mike and Carrie had their first child, Isaiah, in 2015.
Carrie posted a pic of Mike on Instagram this morning (Aug. 3) with the caption: "Captain @mfisher1212 I sure am going to miss watching you play and cheering you on with the rest of Smashville, but I so look forward to seeing what God has in store for you in this next chapter of your life. You've given your teammates and the game your all for so many years…you've worked so hard and made us all so proud! Isaiah and I love you so much and are so excited to be able to have you home a lot more…We can't wait to cheer on the @predsnhl WITH you in the stands! #ThankYouSmashville #PredsFansForLife."
---
Nash Country Daily | by Jim Casey | @TheJimCasey  |  March 26, 2017
Carrie Underwood Celebrates Her 100th Appearance on the "Grand Ole Opry"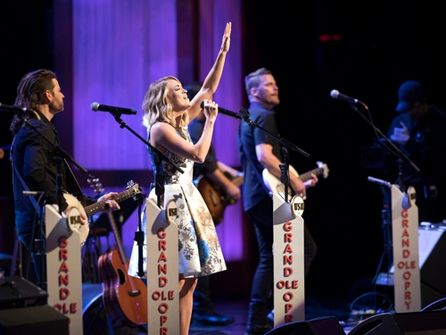 The Grand Ole Opry has played a prominent role in Carrie Underwood's life for many years.
As a child growing up in Oklahoma, Carrie watched the Grand Ole Opry on television at her grandparents' house. In 2005, Carrie made her Opry debut two weeks after winning American Idol. Less than three years later in 2008, Carrie was inducted into the esteemed organization by Garth Brooks.
Over the weekend, Carrie celebrate another Opry milestone by performing on the hallowed circle for the 100th time during the first of four sold-out shows.
Opry member Connie Smith introduced Carrie on Saturday's first show and presented her with a commemorative print and a rose bouquet in celebration of 100 Opry appearances.
"Opry fans, all of us Opry members and the entire Opry family are excited when you come home to the Opry stage," said Connie. "Even when you've been on the road more than 200 days a year, you've always come back to the Opry. That tells me you love us, and we love you right back."
"I grew up dreaming of one day performing here and maybe even becoming a member," said Carrie. "That dream comes true over and over each time I take the Opry stage. Here's to the next 100."
---
Nash Country Daily | by Lisa Konicki | @LisaKon127 (http://www.nashcountrydaily.com/author/lkonicki/) | August 12, 2016
Carrie Underwood Celebrates Two No. 1 Songs in Style and Reveals New Single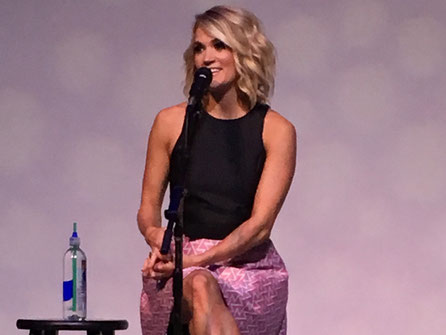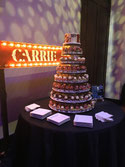 Carrie Underwood was double-dipping Thursday evening (Aug. 11) when she celebrated two of her singles - "Heartbeat" and "Church Bells" - hitting the No. 1 spot on Billboard's Country Airplay chart.
The shindig took place at the Bell Tower in Nashville where Carrie and friends noshed on salads, chicken and steak skewers and cupcakes - from Ivey Cupcakes (http://www.iveycake.com/) - arranged in a gorgeous tower display. To wash it down, guests sipped on specialty drinks named after Carrie's songs, including Church Bell Sour, Summertime Storyteller and Heartbreak Rita.
Carrie, along with songwriters for both No. 1 hits - Ashley Gorley ("Heartbeat") and Zach Crowell, Brett James and Hillary Lindsey ("Church Bells") - took to the stage to thank those involved in 
helping the songs reach No. 1 and to perform "Jesus Take the Wheel, "Heartbeat," "Church Bells" and "Dirty Laundry."
"These events need music," Carrie said from the stage. "This what we are here doing, we're celebrating, so why not?"
Carrie took a moment to reveal what the next single from her Storyteller album would be. "I can tell you what the next single is - it's 'Dirty Laundry.' I'm very excited."
---
Nash Country Daily | by Jim Casey | @TheJimCasey (http://www.nashcountrydaily.com/author/jcasey/) | August 4, 2016
Watch Carrie Underwood's Ringing Performance of «Church Bells» From «Country's Night to Rock»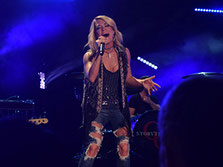 Brett Eldredge and Thomas Rhett co-hosted CMA Music Festival: Country's Night to Rock on ABC last night (Aug. 3). The television event jammed four days of musical performances from Nashville's CMA Music Festival into three hours of prime-time TV, with songs from Carrie Underwood, Chris Stapleton, Luke Bryan, Miranda Lambert, Jason Aldean and many more. 
Check out Carrie's ringing performance of "Church Bells" from her headlining gig at Nissan Stadium on June 10.
---
Nash Country Daily | by Jm Casey | @TheJimCasey / July 21, 2016
Carrie Underwood, Keith Urban, Kelsea Ballerini & More Headline the Opry in August
Nashville's Grand Opry is place to be in August as a who's who of country stars will be taking the Stage Aug. 10, 12, 13 and 16, including Carrie Underwood, Keith Urban, Vince Gil, Kelsea Ballerini, Old Crow Medicine Show and more.
Before kicking off the fall leg of her Storyteller our, Carrie will hit the Opry stage on Aug. 10 and 12 for two shows each night. Joining her on Aug. 10 will be Kelsea Ballerini, Thompson Square, Old Crow Medicine Show, Larry Gatlin / the Gatlin Brothers and more, while Laueren Alaina, Daryle Singletary and more will perform on Aug. 12.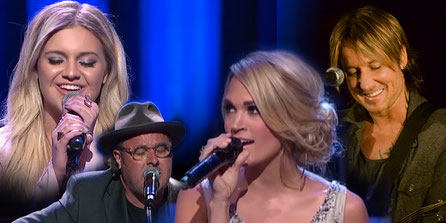 Celebrating his 25th year as an Opry member, Vince Gill will headline two shows on Aug. 13 with Amy Grant, Patty Loveless, the Time Jumpers, Ashely Monroe, Rodney Crowell and more.
On Aug. 16, Keith Urban will be in the house for two shows as he takes a break from his Ripcord Tour. Keith will be joined by Lorrie Morgan,
Drew Baldridge, Del McCoury Band and more.
---
---

---

---
---
*Immanuel Kant
Created: 20160802
Updated: 20180315 | 20180902 | 20190425 | 20190915
Wikipedia: This page was last edited on 15 September 2019, at 04:44 (UTC).